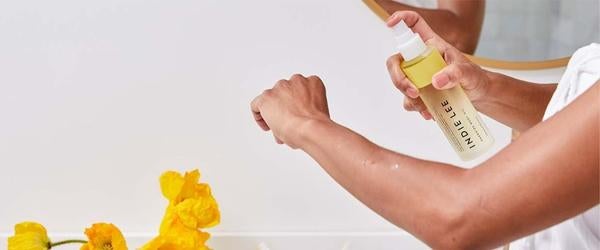 Bergamot
(Citrus Aurantium Bergamia Fruit Oil or Citrus Bergamia)
Botany & Composition
Family: Rutaceae.
This 10 -15 foot tree has big dark green oval leaves, white flowers and round yellow fruit that are a mix between a lemon and an orange. Brownish yellow or greenish oil comes from the fresh peel of the almost ripe fruit.
Geography: This tropical antioxidant rich plant is found mostly in Asia and Southern Italy.
Pregnant and nursing women should check with their doctor before use.
Historical Uses
The Bergamot peel is one of the most common ingredients used in perfume. It has also been used extensively over the ages in creams and lotions and is a commonly used in aromatherapy for its calming effects, and to freshen and deodorize skin. Some bergamot can cause UV sensitivity, but Indie Lee uses bergaptene free bergamot which does not cause photosensitivity.

Stories & Legends
It is believed to have gotten its name from the city in Italy, Bargamo, in which the oil was first cultivated and sold. It is well known for its use in aromatherapies and is commonly found in Earl Grey teas.
Found In
Energize Body Oil, Energize Body Wash, Lip Tints